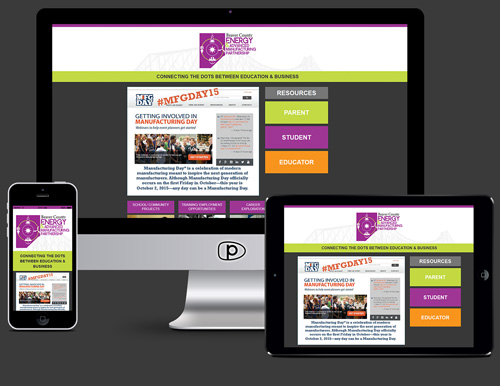 Beaver County Energy & Advanced
Manufacturing Partnership
The Challenge
The newly formed partnership needed a website, tagline and various branding materials. Everything had to be created from scratch, as their was no existing website and no existing content to start from.
The Solution
Pacer was able to create an engaging tagline, and come up with a smart information architecture after only a few discovery sessions.  Our team also created a beautiful "flat design" for the website that engages visitors and helps them find the information they need quickly and intuitively.
VIDEO PRODUCTION
Pacer was also tasked with creating a video to introduce the website and its purpose, as well as a video to show the happenings of the actual event.
Pacer shot various interviews, took a crew on site for the day of the event, and created custom graphics for both videos.
Social Engagement
The video provided fresh content for the partnership to share on social media, further engaging their followers and increasing the overall visibility of the project and the event.
Video connects with the youth of today like no other medium, and having video content on the site allows visitors to quickly understand the concept of the Energy and Advanced Manufacturing Partnership, without have to scroll around the site and read.
Interested In Working With Us?